Relationships
Thor
"I have only ever wanted to be your equal" - Loki
"I remember a shadow, living in the shade of your greatness" -Loki
In the beginning of the story, Thor and Loki get along well. Loki supports Thor and understands him, and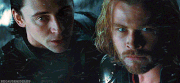 generally is a good brother to him. But as Thor finds out his brother has been lying to him all the time, he is very angry at him. From then on, their relationship gets worse.
Odin
Odin is Loki's adoptive father.
Frigga
Frigga is Loki's adoptive mother.
Ad blocker interference detected!
Wikia is a free-to-use site that makes money from advertising. We have a modified experience for viewers using ad blockers

Wikia is not accessible if you've made further modifications. Remove the custom ad blocker rule(s) and the page will load as expected.